Easy to Read, Simple to Use, Non-Invasive and Inexpensive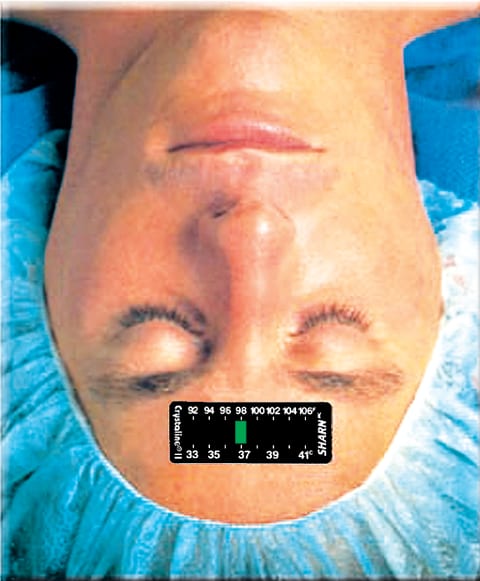 It's Easy to Keep Crystline Close at Hand
You can order Crystaline indicators packaged in this handy dispenser at no extra charge. It mounts quickly and easily on your anesthesia equipment or on the wall so it's conveniently nearby whenever you need it.
Crystaline
5101C-MLC    Dispenser    100
5101H-MLC    Dispenser    50
It takes only a moment to give every patient you treat a high degree of safety before, during and after surgery with Crystaline® Temperature Trend Indicators. You simply apply an adhesive Crystaline strip to the patient's forehead before administering anesthesia. Within seconds, the Crystaline indicator delivers clear, precise and continuous temperature trend readings by single degree in both Centigrade (29° - 41°) and Fahrenheit (84° - 106°). The Crystline indicator is proven to deliver temperature trending with the reliability of electronic monitors. Yet it costs much less, is far easier to use, and stays with your patient from pre-op through surgery to the PACU.
The Reliability of an Electronic Probe Without the Electronics. Or the Probe.
No only is Crystaline II less expensive than disposable probes, it also eliminates hidden costs, such as maintenance, repairs, and inventory associated with electronic monitoring. As standardization occurs, Crystaline is the ideal choice to replace many of the termperature devices typically stocked in anesthesia.
Crystaline clearly provides the security of knowing that the temperature change indicated is an accurate reflection of the temperature change of the patient.
Not made with natural rubber latex.
DEHP-free

Contact Your Sharn Anesthesia Representative for Current Pricing